Praises and Pictures from 2013 CampAdernaline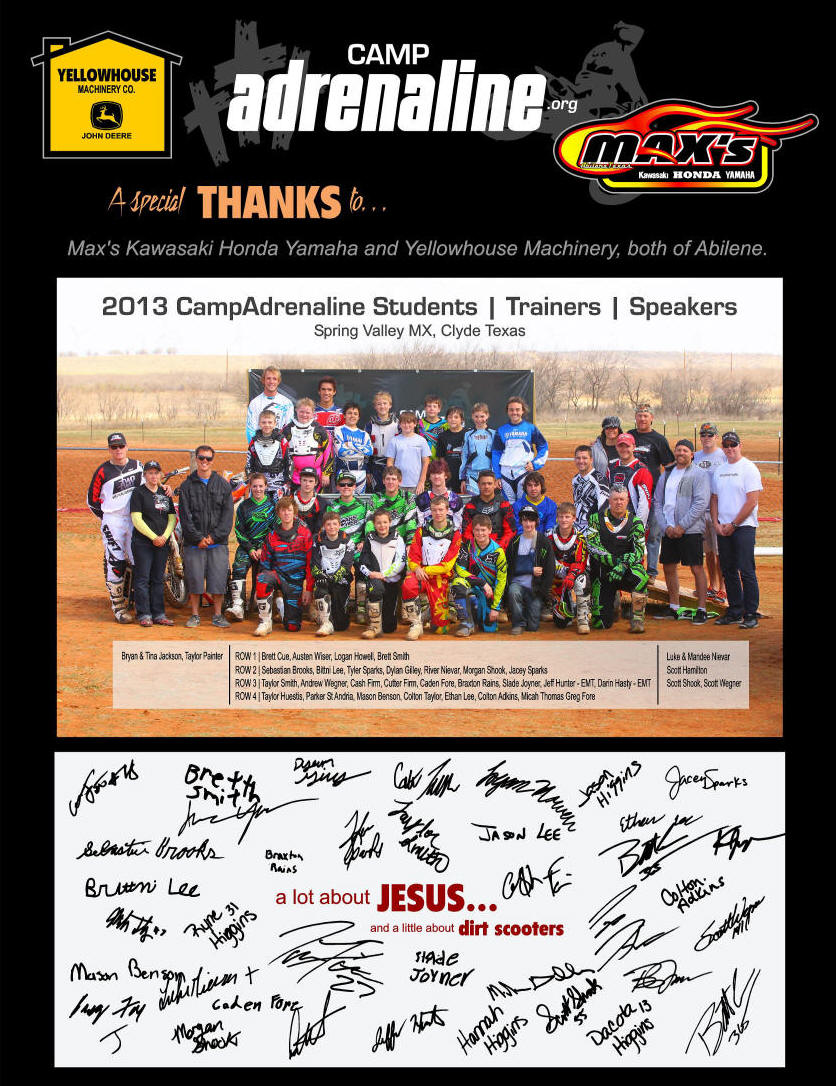 We could have done many other things, went many other places, served many other ways, but we yielded to Gods call to have CampAdrenaline at Spring Valley MX and team up with many, and pray pray pray in order to do so with success. It was divine appointment and right on time. It's certainly unanimous that the Spirit of God changed each and every signle one of us there. So what shall He have us do now? Go out into the world and hope and pray that He can be seen through us.
Thank you John Poor and Al Miller with Max's Kawasaki Honda Yamaha in Abilene for allowing us use of the MX facility. And another important shout out to my great friend Brent Sweet at Yellowhouse Machinery in Abilene. Such an inspiration to us all. And even though the list could continue, we'll stop with saying thanks to the First Baptist Church of Clyde. Thank you Pastor Toby for seeing that we're in it for Him.
We had so many volunteers and speakers that drove in from all over. I could write a book because there were so many that gave of themselves. From the brick breaking dudes, to the praise and worship team, to the banana head oreo eating whipper snapper, thank you ALL for giving of yourself and growing the Kingdom. May God Bless you ALL richly - and He does, and will.
See you soon,
Bryan Jackson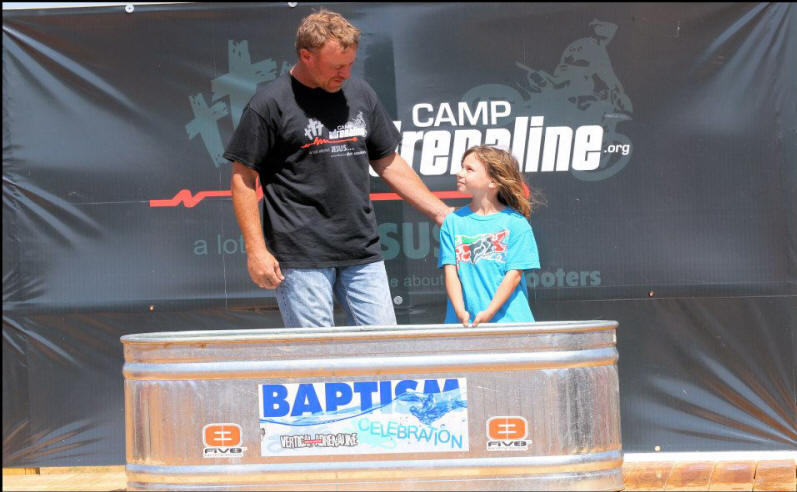 Pastor Luke crying as he prepares to Baptize Lindsey Sparks
Had an awesome time at camp adrenaline for 3 days. Taylor Painter and Bryan Jackson really taught us a lot! Ready for them to have the next camp soon! Also had a great time with my friends.. Wouldn't trade them for anything. And thank you to Bryan Jackson for making sure the camp ran on schedule!

Jacey Sparks (Student)
Had so much fun at Camp Adrenaline! Got to be trained by 2 world champs and I got to meet Brett Cue! I learned a lot on the track and a lot about the lord. After those two days at church I have felt better than I have in my whole life. The lord has come into my life and it has been great. I am so blessed to have this great of a life. Thanks again to Taylor Painter and Bryan Jackson for training me so well and helping me around the track. I also want to thank Pastor Luke for praying over me at church and baptizing me on Saturday. Lastly, I want to thank Brett Cue for riding next to me on the track! It was a great blessing to get to come. Hope to see you all in Granbury!

Parker StAndria (Student)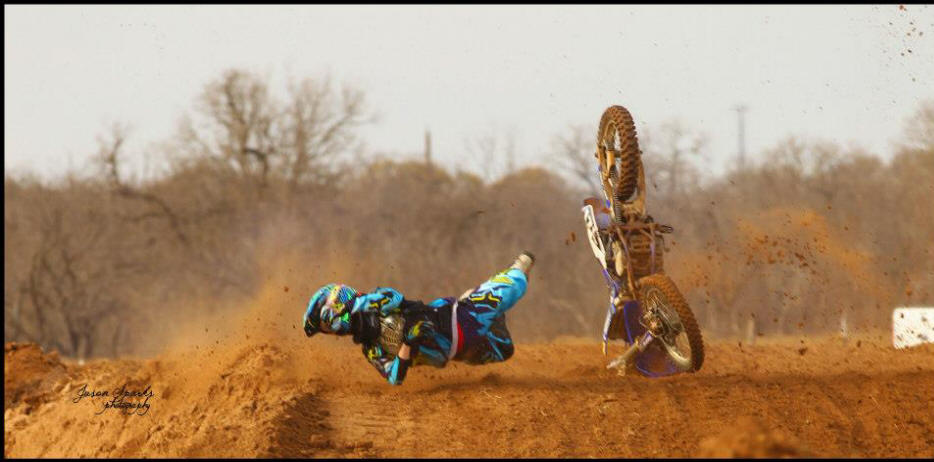 Hence, why the jump is now named the Colton Adkins Scream

Thanks Bryan for the great time at camp minus Colton's broken shoulder but we will never forget The Colton Adkins Screamer lol....
We can't wait for the next camp:)......Shelley Adkins (Parent)






Had a great time at training camp! Got to train with 2 world champions, Bryan Jackson and Taylor Painter, and XGames best whip Brett Cue! Learned a lot and became closer to The Lord and closer with my riding family/friends. Crashed and came home with a concussion. Thankful it was anything worse. Thanks to everyone who helped out. It couldn't have been a better week.

Taylor Smith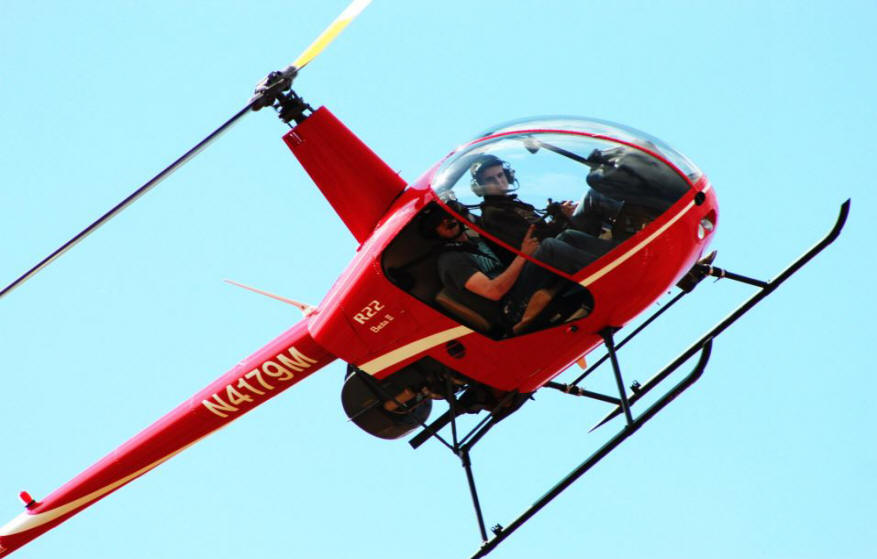 Levi and Gid getting some legit areial footage of Brett Cue and Bryan Jackson out on the track......Luke Terry
Taylor rippin' it in Clyde. Last day of the Vertical Adrenaline MX School. Had an awesome time with some awesome friends. New and old. Taylor Painter and Bryan Jackson were the instructors. They put on a great camp. Thanks guys. We will be there for the next one.

Shane Huestis (Parent)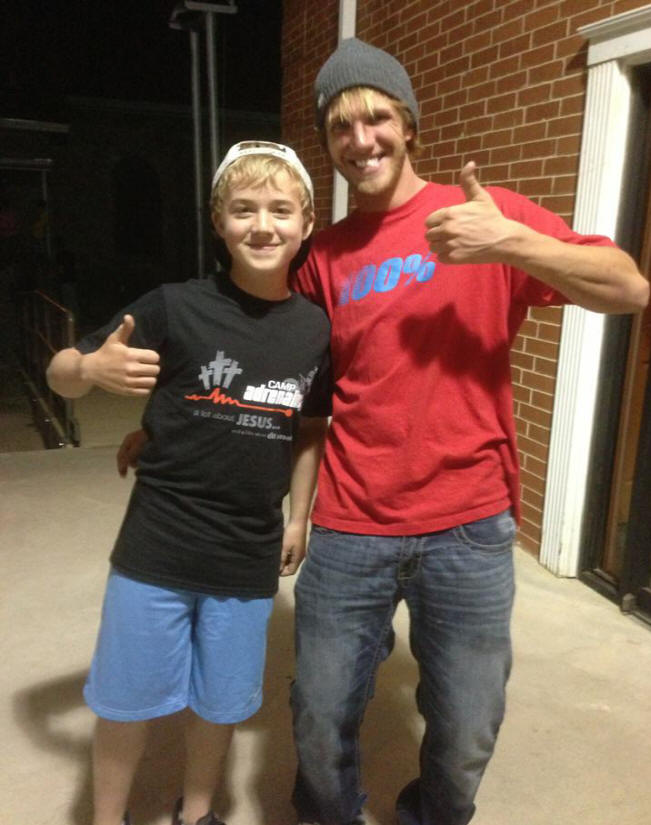 Logan Howell and Bret Cue after church services.




Always love the atmosphere when coming to Spring Valley Mx Park in Clyde, TX! Talk about a moving night! Thank you Bryan Jackson and your love for God, our youth and this sport!

Leslie Howell (Parent)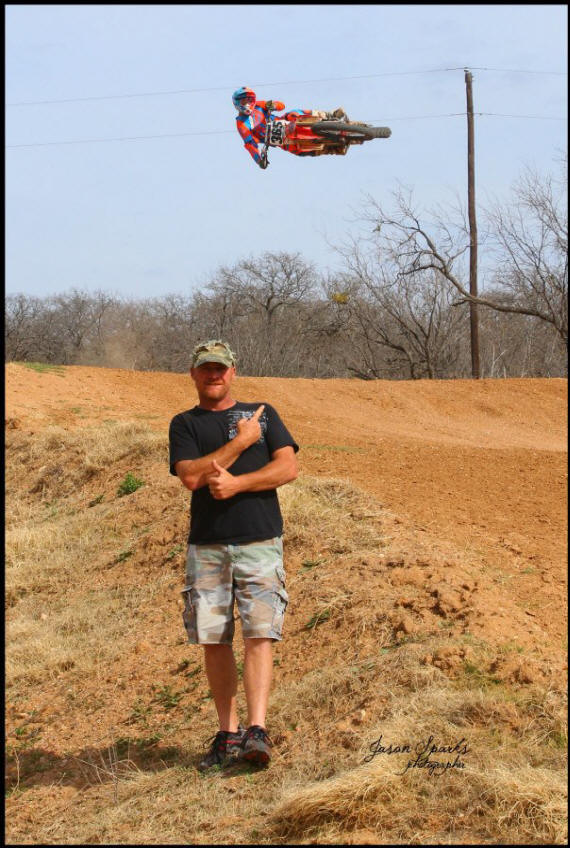 Pastor Luke - Spritual Trainer and Brett Cue (whipper) and Camp Trainer
These guys were a BIG HIT with everyone at camp.



Well this sure has been a crazy couple of days. I trained with two great friends, Bryan Jackson and Taylor Painter! These two men not only helped me shave 7 seconds off my lap times, but led an amazing camp. Luke Nievar brought the heat in the local church, not quite fire and brimstone, but the passion in his message really touched me. The best thing is God really came to me during the camp. Some would say we walked and talked. :) (If you want to know why then you need to hear it in person. Its truly amazing.) It has truly been an amazing time.

Cuter Firm (Student)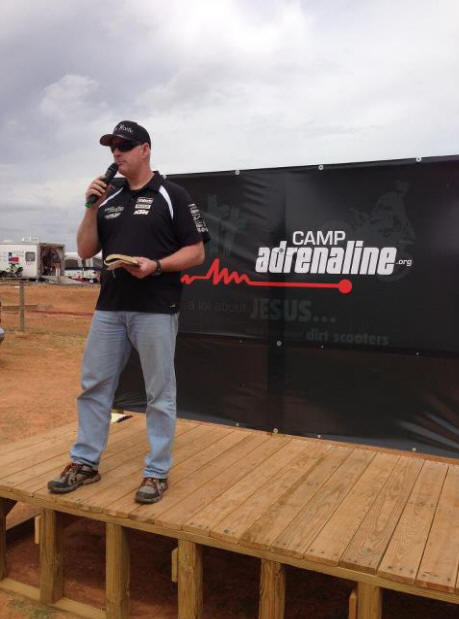 Team Faiths Scott Wegner delivering the GOOD NEWS. (Speaker-Parent)

Hey guys, just want to let you know what a Blessing you ALL were at the MX Camp. I am amazed and very thankful for all the hard work that it too to put on such an awesome event. All the tracks were right on, all the training was was intense and all the scheduling was right on time. I know everyone came away with a deeper understanding and appreciation for the Lord as well as being touched by the Holy Spirit through youHis faithful servants.

Gary (Father)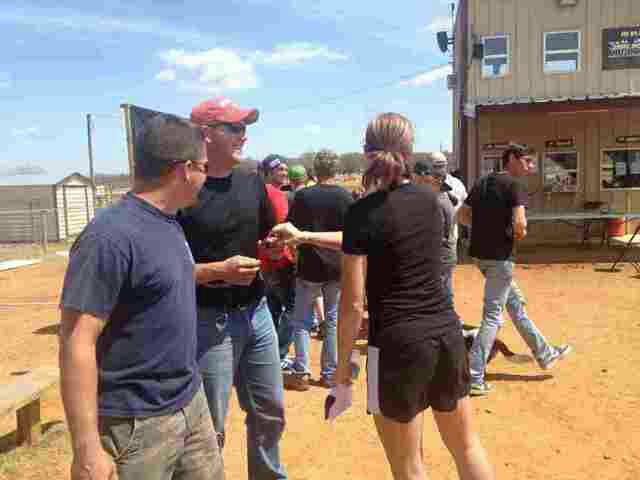 Had a great time at Camp Adrenaline. Lots of talented riders. Darin learned a lot that he can use to teach our kids.
It was a motavational and uplifting camp with amazing people working it.
Thanks Vertical Adrenaline Motocross Ministries and all of the volunteers.

Crystal Hasty (Wife of student)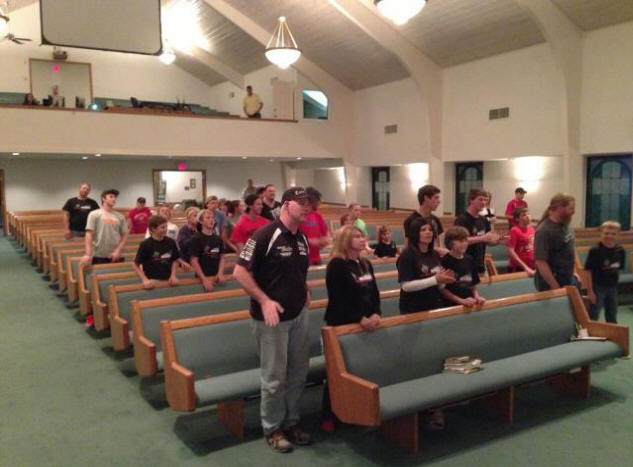 Bused em to Church one night. SOLD OUT for Jesus!
I was really encouraged hearing God's word spoken by you, Luke and Scott. I learned something about my son Caden that I did not know but should have. I also learned to jump confidently and corner much faster from you and Taylor Painter's training. It was tough!

A big thank you to all the volunteers who flagged, fixed meals and kept the track in excellent shape so we could ride!

It was an awesome weekend!

Greg Fore (Father of student and a student too)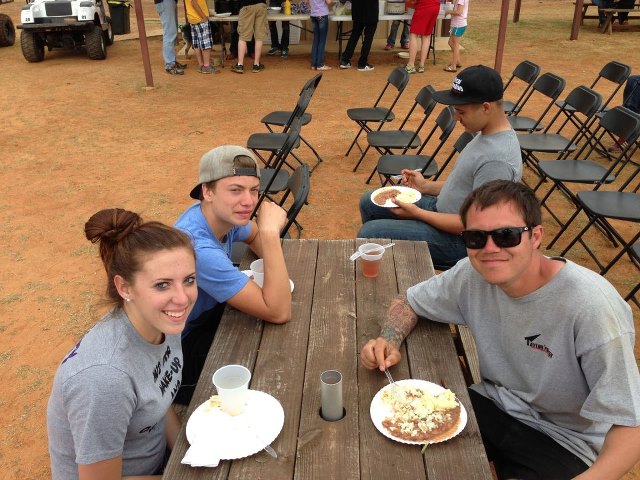 Left to right....Taylor, Taylor and Taylor. True story!
Taylor Smith, Colton Taylor, and Taylor Painter - background Braxton Rains



Hard to describe the beauty of the Camp and how it changed us all, but this is a good start.


I've been meaning to write this to you since Monday - but of course daily grind has gotten in the way - so I decided I MUST sit down right now and do it now!!! I want to thank you from the bottom of my heart for you and Camp Adrenaline. My son Parker is changed - in his spirit! He now fully understands who Christ is and the love that he has for him. Parker has gone to our church and been a part of the youth activities since he was very little. He accepted Christ and was baptized last year - but never really "got it". He never truly understood the full impact of it all and what being "changed" meant. Your camp moved his spirit into action!!! He is on FIRE!!!! He is FULL of the Holy Spirit. He came home from camp and was extremely emotional about his experience there with all of you. He literally cried to me about how good he felt and the peace that had overcome him. Something he never realized he didn't have before. He is absolutely moved and changed for Christ because if what you all showed him over this past weekend.

I just want to say THANK YOU FROM THE BOTTOM OF MY HEART!! Parker has always been an amazing kid!!! NOW HE WILL BE AN AMAZING KID FOR CHRIST!!!

Much love and thanks!
Stacey (mother of student)