I am called to share the Good News with the lost, and encourage and grow those that are Saved. -

Barry McClish




About
Barry & Elizabeth McClish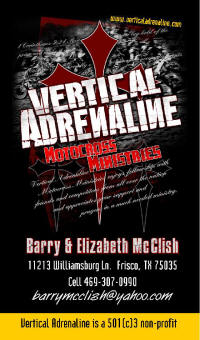 Elizabeth and I have been Christians for 35 plus years. We have been married for 33 years, with 2 children and 10 grandchildren. Our home is in Frisco, Texas. Elizabeth and I have served in various ministries in our local Church, in addition to study and fellowship in the workplace and our home.

I started racing motocross in 1974 and retired from the sport in 1982. In 2010, I returned to the MX scene and began racing at tracks in North and East Texas, as well as northern Louisiana. I (with the support of Elizabeth) have a passion for this great sport of motocross, including vintage, post vintage, and modern bikes.

The Motocross Community has always been very special to us. We have a calling to spread the Gospel within the Motocross Community and beyond. We believe there is nothing more important than seeing people respond in faith to Jesus' call to accept Him as their Lord and Savior. Our desire is also to see people grow in their faith. It is an honor and privilege to serve all the folks in the motocross world and we look forward to seeing you all at the track soon!

Contact Barry McClish